Gentleman Gaming has multiple Divisions, both competitive and Social, which are you Applying for?
SSGS: Competitive Nightly Clan Wars on the Global Map
BT: Competitive Land-Holding Clan Wars 
HT: Competitive Land-Holding Clan Wars 
MEN: Competitive Land-Holding Clan Wars 
SSGS2: Low-tier Development and Reserve Division
I would like to apply for SSGS, BT, or HT depending on availability and/or requiremtnts
In Game Account(s):
 WoT Account username: julienrampon
Age:
I am 18.
Previous Clans and how long you spent in each:
44BUL: 2 months
RUSTD: 3 months
Reasons why you left those groups:
Owners became inactive, clan was very basic, not many activities or socializing. 
Do you know anyone in our Community? If yes, who? 
ArmsDealer
Have you been on our TS previously? 
Yes
List your Tier 10 vehicles, as well as the AVERAGE damage per battle and Win % for each:
T110E4 - 2,001 DPG - 50% WR%
T110E3 - 2,118 DPG - 68% WR%
What Class of Tier 10 vehicles do you perform best in? 
I perform well in a support tank destroyer role, as well as a assault gun role (hull down on front line).
Please insert an image (not a link) of your WotLabs.net signature (banner with stats):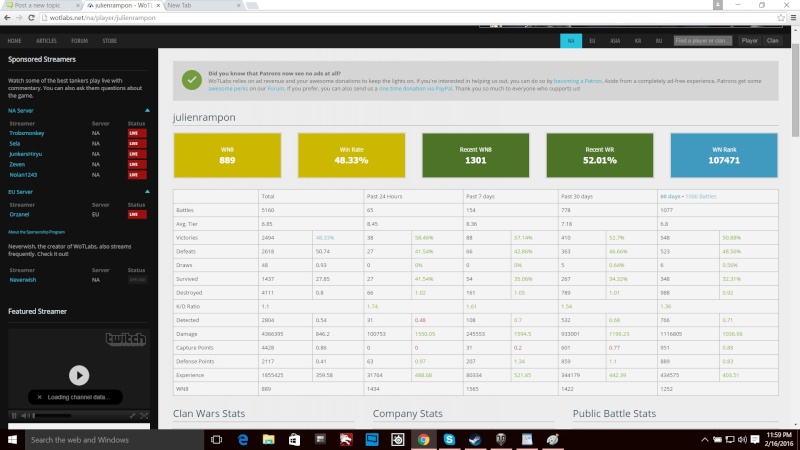 How many days per week can you attend Clan War?
I can attend almost anyday of the week.
What time zone do you currently reside in?
I reside in the Central time zone.
What makes you want to join Gentleman Gaming?
Seems like a friendly community, yet still has a competitive ambiance, two things I'm looking for in a clan. 
Do you have Previous Clan Wars experience? If yes, with who and in what role? 
Yes, I played a long time ago, I played a TD role.
What are your ambitions as a member? 
Get better, all while helping others improve and excel. Unity in diversity.
Tell us a little bit about yourself. What kind of a person are you? 
I'm a laid back, chill kind of person, although I can be very serious if need be. I'm really open to help of any kind, and I am really willing to help others with anything I can help them with.
If you could be an animal, what would you be and why?
I'd be a Tiger.
One of the Officers in our Community is an idiot. Who do you think it is?
Frenchy.

julien




Posts

: 3


Join date

: 2016-02-16



You forgot the most important question.
I don't know about this one... He killed me in a pub match and laughed about it, almost like he's already in the community... I'm thinking he's a re-roll, although not a good one.

+1 if he answers the final question.

SteampunkSniper




Posts

: 18


Join date

: 2015-06-22


Age

: 49


Location

: Canada



Oh, sorry, missed the last question it didn't go through: The answer is Frenchy. No SteamPunk, I'm no re-roll. Re-rolls don't have 3 year old accounts. Don't be angry you got wrecked (someone told me to kill you for gold)


julien




Posts

: 3


Join date

: 2016-02-16



I actually did answer the question the first time, simply highlight the last line with your mouse and the text will magically appear lol

julien




Posts

: 3


Join date

: 2016-02-16



*gifts Julien with a sense of humour*

SteampunkSniper




Posts

: 18


Join date

: 2015-06-22


Age

: 49


Location

: Canada



Wtf happened to the rest of my reply???

Stupid iPad!

I know you're not a reroll.

SteampunkSniper




Posts

: 18


Join date

: 2015-06-22


Age

: 49


Location

: Canada



Frenchy is an officer apparently, lol

JoeyDominick




Posts

: 851


Join date

: 2013-07-09


Age

: 28


Location

: Defuniak Springs, FL





Similar topics
---
Permissions in this forum:
You
cannot
reply to topics in this forum